Studies done by the research team at the MDRF have shown that Indians have increased susceptibility to diabetes and they have described several new genetic associations with diabetes in Indian diabetic subjects. Acknowledging the vast research undertaken by MDRF in the field of Genomics of Type 2 diabetes, the Indian Council of Medical Research (ICMR), New Delhi has designated MDRF as an 'ICMR Advanced Centre for Genomics of Type 2 Diabetes'. Dr. N.K. Ganguly, Director General, ICMR, New Delhi inaugurated the 'MDRF - ICMR Advanced Centre for Genomic of Type 2 diabetes' on 30th July 2006 at Hotel Savera, Chennai.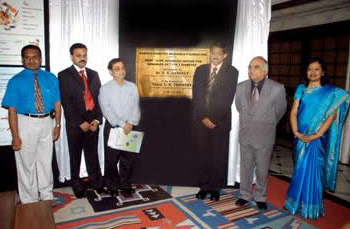 Inaguration: [In picture from left]
Dr. Cherian Varghese, Dr. Ranjit Unnikrishnan, Mr. L. K. Tripathy,
Dr. V. Mohan, Dr. N. K. Ganguly and Dr. M. Rema.
MDRF is the first diabetes centre in India to be accorded this national recognition by the ICMR and will serve as a Nodal Centre for Genomics of Type 2 diabetes research in our country. In addition, the centre will train scientists in advanced research in genomics pertaining to diabetes, which has been recognized as a disease of national importance by Govt. of India. The outcome of such a research cum training programme will form a solid basis for genetic epidemiology, which will enable us to map the genetic diversity pertaining to diabetes in India.